Carglass, part of the Belron Group, is the leading vehicle glass repair and replacement company operating in 40 countries across Europe and beyond. Its Portuguese branch, which has started 33 years ago, has about 270 employees spread over the headquarters and 65 repair centers all over the country. "These branches are Carglass-owned, which allows us to maintain the high level of quality and customer care", clarifies Tatiana Silva, Talent Manager at Carglass Portugal.
Challenge: Robust recruiting platform is needed to help HR move to a strategic level
In order to enhance this focus on quality and customer care, Carglass Portugal started in 2019 a repositioning of the HR department, turning it into a strategic rather than a support department. "This also meant that we had to formalize our recruitment procedures and make them more efficient", continues Tatiana Silva, "Until then, we made use of phone, e-mail, and live conversations very randomly and without centralized documentation of every action taken. We realized that we would only truly improve our recruitment processes if we made use of a centralized and encompassing platform that could collect all information and guide the process."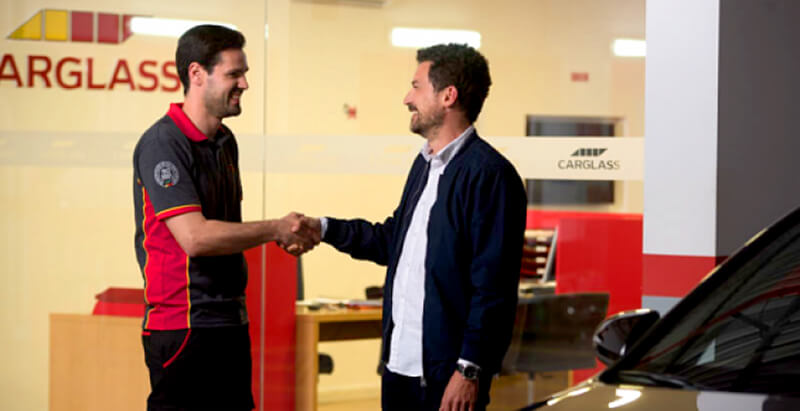 CVWarehouse: trust at first sight
In 2020, they started the search for a fitting solution, which eventually led to CVWarehouse. "We did contact other vendors as well", says Tatiana Silva, "But CVWarehouse was the first to meet with us and to present their offering and their team. This was so convincing and fully meeting our requirements that we decided to not look any further and to embark with CVWarehouse straightaway. And we haven't regretted that decision for one minute."
Carglass is not only satisfied with the platform itself, but also with the level of support they receive from CVWarehouse, adds Tiago Arcanjo, HRBP at Carglass Portugal: "From the implementation – which went like a breeze and took no longer than a month – up to today, we could always rely on a swift answer to our questions and solutions for our problems. That makes it so much easier to fully trust this platform."
We could always rely on a swift answer to our questions and solutions for our problems. That makes it so much easier to fully trust this platform.
— Tatiana Silva, Talent Manager
Result: faster, smarter, and more collaborative recruiting processes
CVWarehouse is mostly used for the search for technical profiles. "These recruitment ads are usually placed on several job posting sites, and that's where CVWarehouse comes in handy", explains Tatiana Silva, "instead of having to post the ads manually on each separate site, we can now post them to all with one single click. This already means a huge time saving for our HR department."
Carglass also really values the archiving functionality within CVWarehouse, mentions Tiago Arcanjo: "Before, we had to start from scratch for each new search. Especially in areas such as Lisbon, where there is limited availability of talent, this was very frustrating. Now, we can store interesting profiles which were not selected in our archive and retrieve them when we start a new search some months or years later."
Combined with the built-in analytics functionality, CVWarehouse also provides them with an insight into which job offerings led to the most candidates on which moments and in which areas. "This helps us to better understand the dynamics of talent availability, and to adjust our recruitment strategy", Tatiana Silva adds.
Equally important is the possibility to receive an e-mail as soon as a new cv has been posted for a specific function, explains Tiago Arcanjo: "This allows the recruitment person and the department manager involved to respond very quickly. That often makes the difference between hiring a candidate or losing them." This speed of response is further enabled by the collaboration features in CVWarehouse, allowing both the HR department and the branch or department needing the new hire to closely follow the status of each vacancy. "That has increased the feeling of partnership between HR and the other departments", Tatiana Silva concludes.