WeDo is a market-leading software company in a niche market. The company makes integrated tools for revenue assurance and fraud management. Or in human language: WeDo customers have nothing to worry about when they are dealing with financial transactions and security. We can quite imagine that WeDo feels at home with a partner that also offers integrated solutions – except that we are in the HR field.
We interviewed Inês Pina, whose job title 'Head of People Culture' already shows that WeDo has a distinctive vision of HR: "We don't see people as resources. People are people, and that's what matters most to us." Of course, there are a lot of operational aspects to HR, but technology is increasingly a game changer. "Various platforms, like CVWarehouse, are making our life easier", says Inês. "Operational tasks are being automated as far as possible. So we can focus on what is really important: attracting and developing talent, and spreading our culture.
Recruitment remains a challenge
"We have around 600 employees in 11 countries spread across 5 continents", says Inês, "200 of them are working full-time on developing our products. In addition, we have quite a lot of other IT profiles, such as IT Consultants, who dream up solutions for our customers." In total, 2/3 of WeDo's workforce consists of IT professionals: these profiles are in short supply and are difficult to persuade. "We see that every day", explains Inês. "What is more, we have to recruit around 100 people every year. Our main challenge is brand awareness: we are working in a small niche market, and although there are 300 people working at our headquarters in Portugal, we are much smaller in the other 11 countries – and less well-known."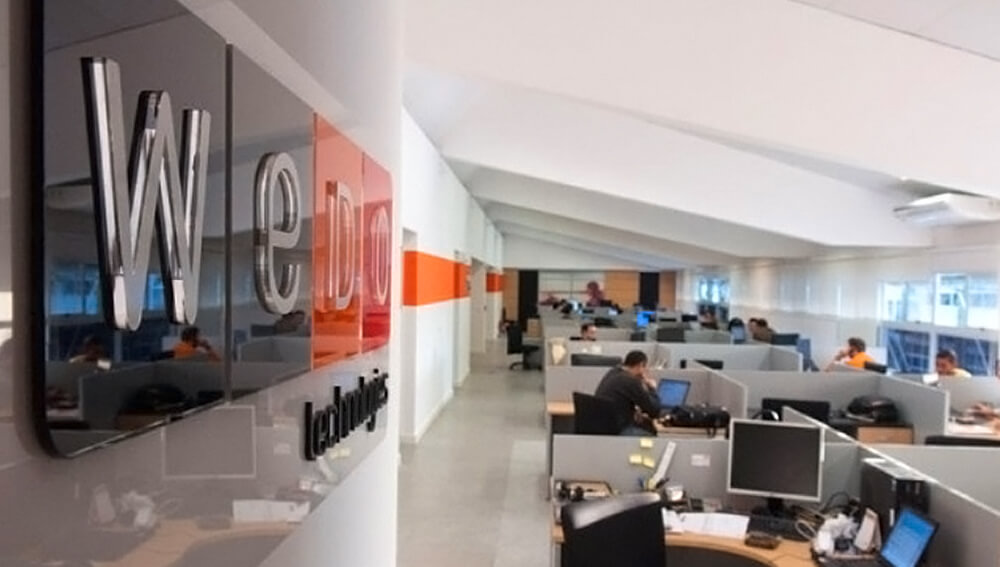 A concrete approach leads to more awareness, a strong reputation and better quality hires. "In places where we have a local HR team, we can develop strategic actions", says Inês, "for example by having a presence at universities and trade shows. But we also devise overall, long-term strategies, in collaboration with our marketing department." HR and Marketing are real partners; the two departments need each other for devising positioning, plan and campaign. Effective collaboration has already led to an approach in which digital marketing plays a key role, which attracts job applicants with blogs and case studies.
A strong culture is our foundation
"We are a global market leader, and we are proud about that. As a company, we do our utmost to thrive in a dynamic context with a lot of challenges", says Inês. "That makes it exciting, and provides fantastic opportunities to develop careers. Our culture is the foundation underpinning our growth: transparency, collaboration, diversity, engagement and sobriety are part of our DNA. You can also see that on the shop floor: a horizontal structure, open-plan offices and entrepreneurship. Nobody is afraid to speak up. Quite the opposite: our employees are always coming up with new ideas and suggestions. Because everyone can make the difference at WeDo."
WeDo recruits internationally. The company has a presence in 12 different countries, from Brazil to Malaysia. "In each country, there are different procedures and legislation. That makes it even more challenging. But cultures differ greatly too. For example, in the United States, we can't ask an applicant's age, whereas here in Europe, during a good interview we have no problem chatting about children and relationships."
CVWarehouse is constantly evolving: they follow market trends, and always look for ways to improve. I notice that they invest quite a lot in proactive innovation. And that can only be good for our collaboration in the long term.
— Ines Pina Pereira, Head of People Culture @ WeDo Technologies [Sonae IM]
Supporting the whole process
The one constant in recruitment is the process: "It's very simple: a CV screening, a phone interview to sound out interests and motivation and check out core competencies, followed by an interview to probe deeper on certain topics and to see whether there is a good match with our corporate culture. In the final phase, we propose candidates to the business, with their positive aspects and points they need to work on. And then the best applicants are hired." Inês sees her Recruitment department as an in-house agency: "An integrated and comprehensive tool like CVWarehouse is a tool at every stage, and its importance should not be underestimated. If we propose candidates to our internal customers, we know that the information that we retrieve from the system is the most accurate and complete input that we can provide."
Could WeDo still improve its recruitment process? "That is definitely our intention", says Inês with conviction. "We can retrieve quite a lot of valuable information from CVWarehouse, and use it to make every step faster and better. What we need is objective data, because gut instinct is not that reliable. It is not because you haven't recruited anyone for two weeks that you are not doing your job properly. In addition, the statistics help to substantiate our efforts to the rest of the company. That makes our department more credible."
Less wasted time = a better reputation
"CVWarehouse is not only extremely user-friendly for us and for applicants, but it is also a tool to make certain tasks in our recruitment process run faster. For example, we can send out automated replies when our process has reached various stages. It makes life easier for us, and it upholds our reputation. Because working fast keeps the waiting time as short as possible for job applicants. Even more importantly: there is not one candidate who doesn't receive a reply from us. By using CVWarehouse, we make sure nothing slips through the net."
The WeDo recruiters leave administrative, repetitive tasks to CVWarehouse, and now have more scope to focus on the human aspect of recruitment: matching the right person to the right job. "Thanks to CVWarehouse, we have also increased our capacity", says Inês. "We can handle more hires, which means that we are not permanently dependent on recruitment agencies. Which means we can cut back on our costs."
Innovation is the best long-term policy
Inês intends to continue the partnership with CVWarehouse: "CVWarehouse is constantly evolving: they follow market trends, and always look for ways to improve. I notice that they invest quite a lot in proactive innovation. And that can only be good for our collaboration in the long term."
To conclude, Inês is keen to emphasise an important message: "A strong partnership starts with a good relationship. And that is exactly what we have with CVWarehouse. The people behind it are always friendly and always there for us. They really listen, and come up with valuable solutions."