From 2 ambitious founders in 2014 to 22 stores and over 160 employees in 2021, that is, in a nutshell, the success story of Portuguese footwear retailer KICKS. The initial ambition of opening ten stores in ten years' time has grown with the company's size: KICKS now wants to become the market leader in Portugal, and already aims for an international expansion.
KICKS resells internationally renowned brands such as Nike, adidas, New Balance, PUMA, and Reebok. Yet, they pride themselves on being different from other players in the sportswear market. "KICKS focuses on customer experience and the leadership development of our people", explains Daniel Florêncio, Head of People at KICKS, "We are creating our leaders of tomorrow. And we fully believe that if we encourage transparency and honesty, we can effectively build a business culture that sets us apart. That will allow us to attract and retain the best talent."
Challenge: how to overcome the shopping center prejudice
Despite their spectacular success story and the focus on personal development and genuine customer interactions, KICKS still struggled with finding enough talent to fill all new positions created by the continued strong growth. "We were considered one of the 100 best companies to work for in Portugal, and still, we find it hard to attract the best talent in the country", Daniel summarizes the situation.
The biggest challenge lies in people's negative view of working in shopping centers, Daniel explains: "Portuguese people consider it as an alternative when they cannot find work in a 'normal' company. Only when they give it a chance, they realize how fulfilling and varied their job is and how much they can learn about all aspects of business management: human resources, psychology, economics. They can experience the value of a working environment that fosters people's uniqueness, so that they feel motivated, recognized, and respected. We are aware that we don´t create jobs for life. But there is a certainty: when any of our people leave, they will be a better professional, and above all a better person."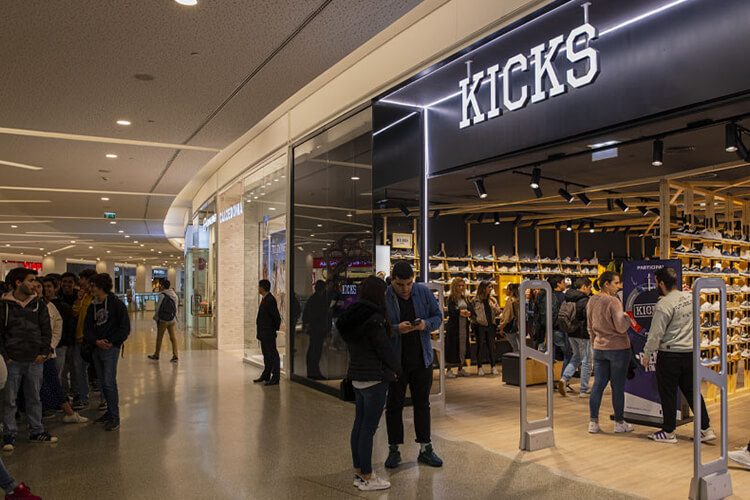 CVWarehouse enables more efficient talent acquisition
The continuing growth of the organization generated a growing need for talent and consequently a growing number of applications to manage and follow up. The exhaustive records in Excel proved insufficient and KICKS went out to look for a more professional tool. They were looking for a better overview, a more efficient talent acquisition, and – finally – a more human approach throughout the recruitment process.
Among the solutions we compared, CVWarehouse excelled in various areas, details Daniel: "I base almost all my decisions on data. CVWarehouse allows us to generate all relevant indicators in real time, which speeds up the decision process. The solution is very easy to use, so it can be used by all managers involved, not only by the HR department. Also, as we place great value on human connections, we were thrilled with the incredible Portuguese CVWarehouse team. We have a tremendous confidence in their support team. And our chats are not restricted to the application. We also discuss important matters such as world economics and – not to forget – football! (laughs)"
The recruitment processes flow more professionally, and we have become much more agile and efficient.
— Daniel Florêncio, Head of People - KICKS
Result: more personal communication with the growing talent pool
KICKS has started using CVWarehouse in January 2020. The HR team and the growing number of managers using the service are thrilled with the improvement they have experienced in their recruitment activities. "The recruitment processes flow more professionally, and we have become much more agile and efficient", Daniel tells.
"Previously, we managed our applications via email, and I feared that we would lose good talent among the 1200 monthly applications. Now, with CVWarehouse, we are on top of it all. We have an accurate, unified, and up-to-date view of all running and past applications. One of the goals (and duties) we have as a company is to guarantee a 100% response to all applicants. Thanks to CVWarehouse, we can still achieve this objective, even with the exponential rise of vacancies and candidates that we need to manage."
The candidate-centric approach is further enhanced by the centralized view that CVWarehouse offers, remarks Daniel: "We train our leaders with recruiting skills so that they can be part of the recruitment process and be more closely involved in the selection. The application enables us to follow the candidate's journey through the different interviewers and see the individual notes and questions as well as the overall assessment!
No doubt about the future
When asked about future plans, Daniel believes it's too early to consider new features or projects, as KICKS is still in the process of getting all managers to use the software, and reaping the full benefits. But there is no doubt about the fundamentals of the partnership between KICKS and CVWarehouse: "We will walk together, and we will grow together!"
You can go find out more about KICKS at kicks.pt.